I bet some of you were thinking that I was gonna stop doing reviews now that I was selling Boot-Lego frames. Well, I am continuing the reviews because new Boot-Lego sets are constantly popping up, and I'm curious by nature! This time we'll focus on a few new companies I discovered, and a collection of space ships for IO, and a few other odds and ends. Let's begin.
First off was a small space ship set from an up-till-now undiscovered company named XinLexin.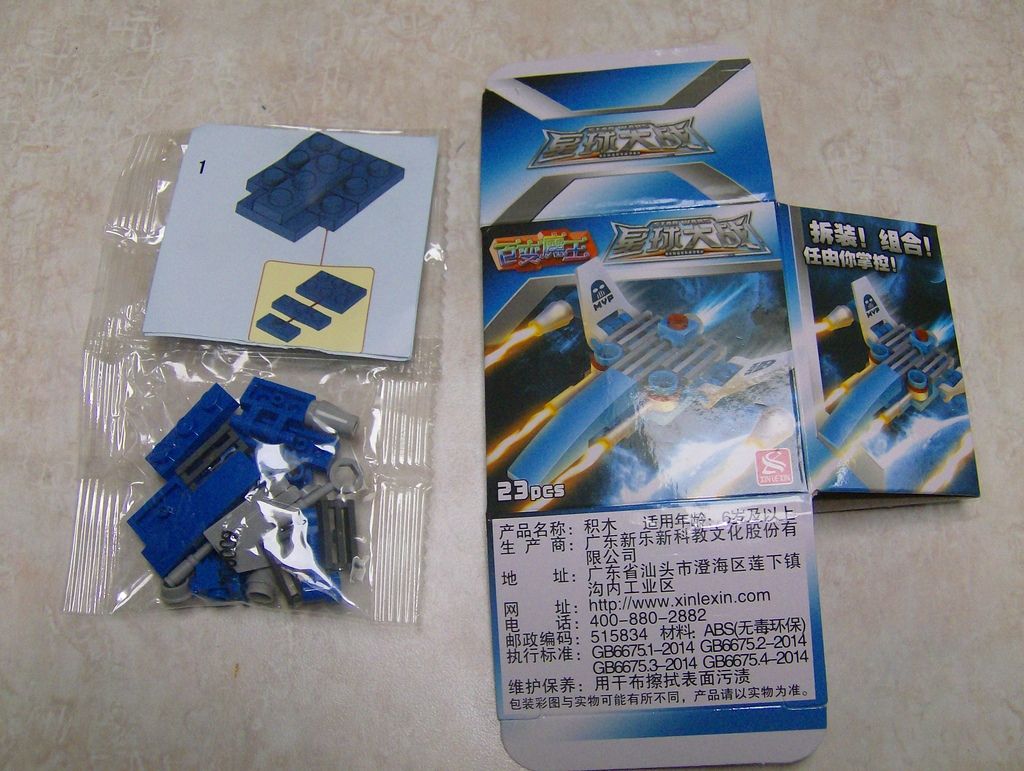 This 23 piece beauty, named "Children's Aircraft Star Wars MVP", amounted to an astounding $1 USD. This gives us a 4 cent Price Per Piece. That's just below average for most Boot-Lego sets (the Golden Ratio of true Lego sets is 10 cents per piece). Quite an interesting collection of pieces on this one, and everything fit together surprisingly well! Even the clips, which tend to be the bane of any Boot-Lego set, fit snugly.
All put together, it came out to a cute little mini-frigate for Intercept Orbit. Throw down a couple of dollars and you can have yourself a nice little fleet. Star Wars MVP, you da real MVP!
Next up was another tiny ship, this one from the more recognizable Jie-Star. No box for this little guy. Just a tiny baggie with the pieces and instructions naming this the "Space Falcon Fighter"!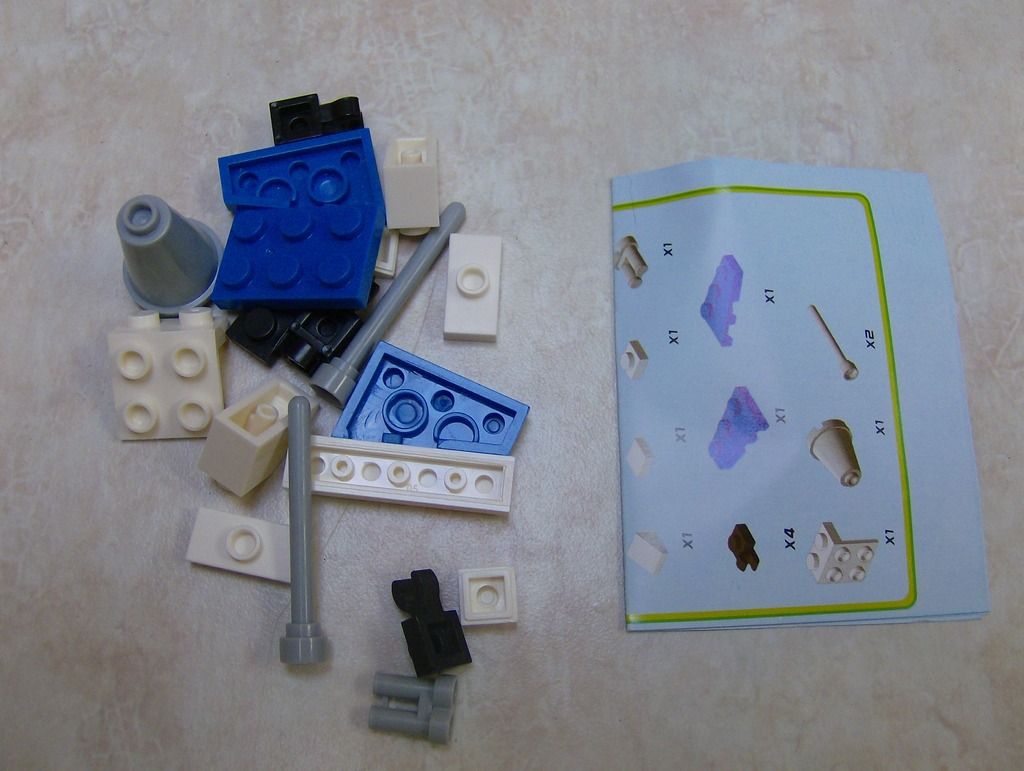 This set had 20 pieces in total, and was selling for the insane price of $0.80. I didn't care if I wasn't particularly keen on the design. Less than a dollar. 4 cent Price Per Piece. End of story. (unfortunately I forgot to picture two studs in this picture, but it was actually 20 pieces. I promise.)
While I don't really like the design of Space Falcon Fighter, it could pass off as either a mini-frigate, or a satellite of some kind. Mixing a few of these with a few Star Wars MVPs could add some variety to your fleet, all for at or around the same price. As with all Jie-Star sets I've seen, clips are good, and bricks hold together well. There's just a bit of flashing that needed trimming on some pieces, but otherwise held up quite well.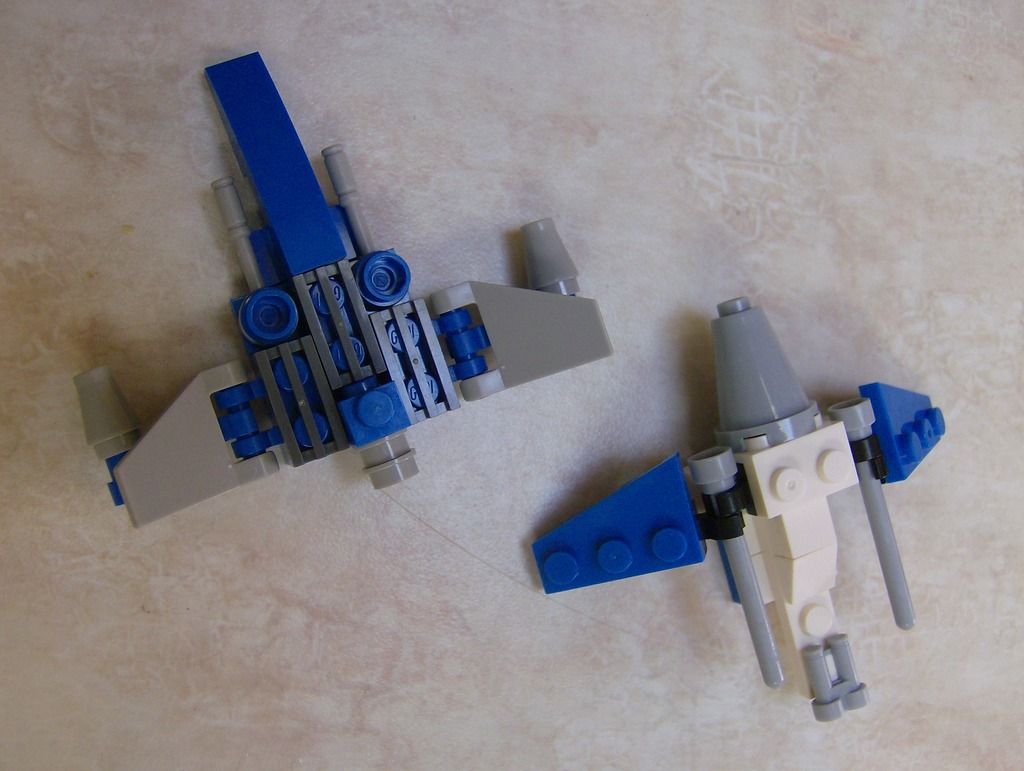 On the subject of Jie-Star, I found another cheap Intercept Orbit candidate. This one was a fair bit larger than either Star Wars MVP or Space Falcon Fighter, and honestly looks quite a bit better. In all honesty, I rather like "Celestial Exploration Lightning Shuttle".
Weighing in at 36 pieces for $1.70 USD, Lightning Shuttle came out to juuust under a 5 cent Price Per Piece ($0.047 if we're being technical). A bit pricier than the other sets so far, but still, nothing too outrageous.
All put together, Lightning Shuttle is a really nice looking IO frigate. It even has moving parts! If you've already rushed out and bought several Star Wars MVPs or Space Falcon Fighters, Celestial Exploration Lightning Shuttle would make a great flagship.
HPIM4517
HPIM4519
And, to keep up with impressing me, I realized that this set combines with another Jie-Star set I had reviewed ages ago, back when they made these in yellow and red rather than blue: Mini Ultraman Series Fighter 3 Series!
HPIM4513
Because there seems to be a theme of BLUE going on here, we may as well continue with a blue and white frame candidate I came across. This one is from another company I hadn't heard of before; Little Companion. And, not pulling any punches, this "3-in-1 Deformation Robot" is a blatant rip-off of the out-of-print Lego Creator set 4917. Literally the only thing they changed on the box was the logo.
HPIM4514
The pieces were all top-notch quality, no flashing, clips connected solidly, etc. and no odd color variations between bricks. This one was a whopping $2.50 USD with 77 pieces, giving us a very reasonable 3 cents per piece. If you don't care about buying a knockoff of an out-of-print Lego set, it's something to consider.
HPIM4521
Good bricks, good colors, good price. If it wasn't for the fact that this was already an actual Lego set, I'd have to give them major props for good bricks and a good set. As it stands, It still makes a fine frame for the tabletop, even if it is a bit stumpy.
HPIM4523
Just about $5.00 USD for all these Boot-Legos...
HPIM4524
Just before I was planning on doing this latest Boot-Lego review, several more sets caught my eye. I figured why not just wait a few extra days and give it all to you guys as one huge file dump. So bear with me, only two more to go. I'll make them quick.
Jie-Star recently listed a tiny robot set for $1.20 USD that I was quick to snap up. It's not the prettiest, but as I've said before, I have no impulse control. Taking a jab at my maturity, Jie-Star named this little guy "Baby's Warrior Robot". Gee. Thanks.
HPIM4491
25 pieces with $1.20 USD price gives us 4 cents per piece. That kinda seems to be the average for Jie-Star sets. No complaints here!
HPIM4493
Why did they give it a long technic pin for a weapon? I have no clue. But Baby's Warrior Robot could definitely pass off as either a 4p frame, or a small set of power armor for your space marine army.
HPIM4494
Last but not least, we have a neat terrain piece by Lemore; a company that seems to specialize in MOCs (My Own Creations) that it sells as custom sets. Kudos to them for making their own designs.
HPIM4528
This one was a bid-only item, so I am not sure of the actual regular cost. However, I bid and got it for $2.80 on ebay. With 45 pieces in the set, we have a Price Per Piece of $0.06 USD. A bit pricier than the rest of today's review, but still close to half the cost of any Golden Ratio Lego set.
HPIM4530
This MOC is touted as a repair platform for Iron Man's armor, aptly named "Iron Man Platform 2 Plus" (I have no idea what the 2 Plus is supposed to mean). I just wish that central platform had a spin plate on it, rather than just being stationary. Oh well. Brick quality is really good, and clips fit and work snugly. I just wish it would spin though!
HPIM4531
Even though it's supposed to be for Iron Man, I think we could re-purpose this set for Mobile Frame repairs!
HPIM4532
Looking over this review's haul, I'd say that my opinion of Jie-Star has improved since last time. They've taken older sets and improved on them, and current brick quality is better than before as well. I'll be keeping an eye on XinLexin sets, because I can see some potential in what could become some really great Intercept Orbit frigates. I'll also be on the lookout for more terrain pieces, because Lemore's Iron Man Platform 2 Plus was quite a great set, and very reasonable! Who knew Boot-Legos could encompass Frames, Frigates, Vehicles, AND Terrain!? Are you tempted to heresy yet?