I've seen a few RPG designs floating around, and truth be told, the RPG 7 was one of the first things I cobbled together in LDD. The unfortunate aspects of using a "Female Function Element" piece for the launcher instead of a combination of megaphone and 1x1 round bricks (the inability to color the firing assembly and back-blast tube independantly) were outweighed by the structural soundness and simplicity of my final design, in my opinion. But that's opinions for you. I'll let you be the final judge.
I submit, for your approval, the M7 Multi-Use Anti-Frame Launcher as either a standard frame weapon or Single-Shot Rocket.
The 30cm warhead contains a shaped charge capable of penetrating any modern armor with a direct hit. An unguided rocket motor rapidly accelerates this 250kg assembly to over 700 meters per second. Stabilizing fins are deployed after firing, bringing the total length of the projectile to a respectable 3 and a half meters. As such, the only logical application of this launcher is from a mounted, crew-served position, or -more desirably- as a Frame-mounted weapon, as depicted below.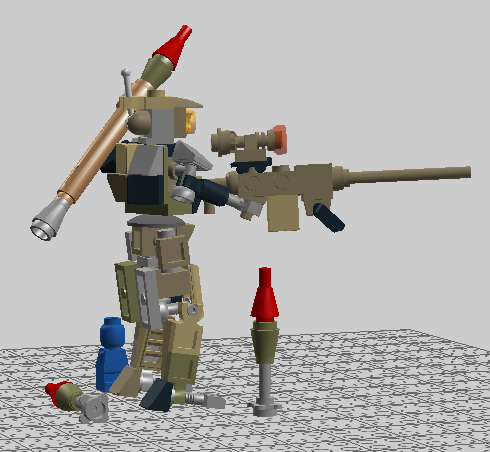 The Capuchin Scout Frame, demonstrating the ease of use the M7 by wielding it along-side the LR-4 10cm Precision Rifle.
Sharing this in the hopes that someone can brick this out, eventually. My hopes aren't high, given the limited availability of the function pieces or any reasonably-colored ice-cream cones.
[Edited to list correct piece.]