This is a living thread of the builds I'll be bringing along to help demo IO in Boston. I'm supplementing an existing partial fleet, so it's likely you won't see a full nine ships + companies here. Special thanks to DarkSyntax' microframes thread for helping me out of a rut for Aces and Companies, and special thanks to everyone for the plethora of inspirational techniques and profiles I've borrowed to put my thoughts into brick form.
Build 01: "Viscount" Command and Control Frigate
(
)
Originally a deep space science vessel, the Viscount saw military refits to protect New Anchorage R&D assets from privateer aggression, notably from FC Frame companies that utilized the debris fields it was primarily commissioned to probe and map as ambush points.
Maneuvering the light chassis is accomplished with a pair of VT Coatl Engine Clusters, a miniaturized variant of their Thunderbird line that propel much larger ships at comparable speed. A massive suit of passive and active sensors occupies a dedicated pod amid-ship, starboard side, and a powerful BanXing K-Link Hypercomms dish is affixed opposite it. Normally this would allow the ship to collect and relay extensive astronomical data in real-time to data-banks far and wide, but now -in what some would consider a travesty of it's neutral scientific charter- it simply provides battlefield awareness to Solar Naval fleets in the area. Independently tracking and firing Rickers Defensive Arrays crown the main bulk of the ship, warding off would-be highjackers and light craft with ill intent.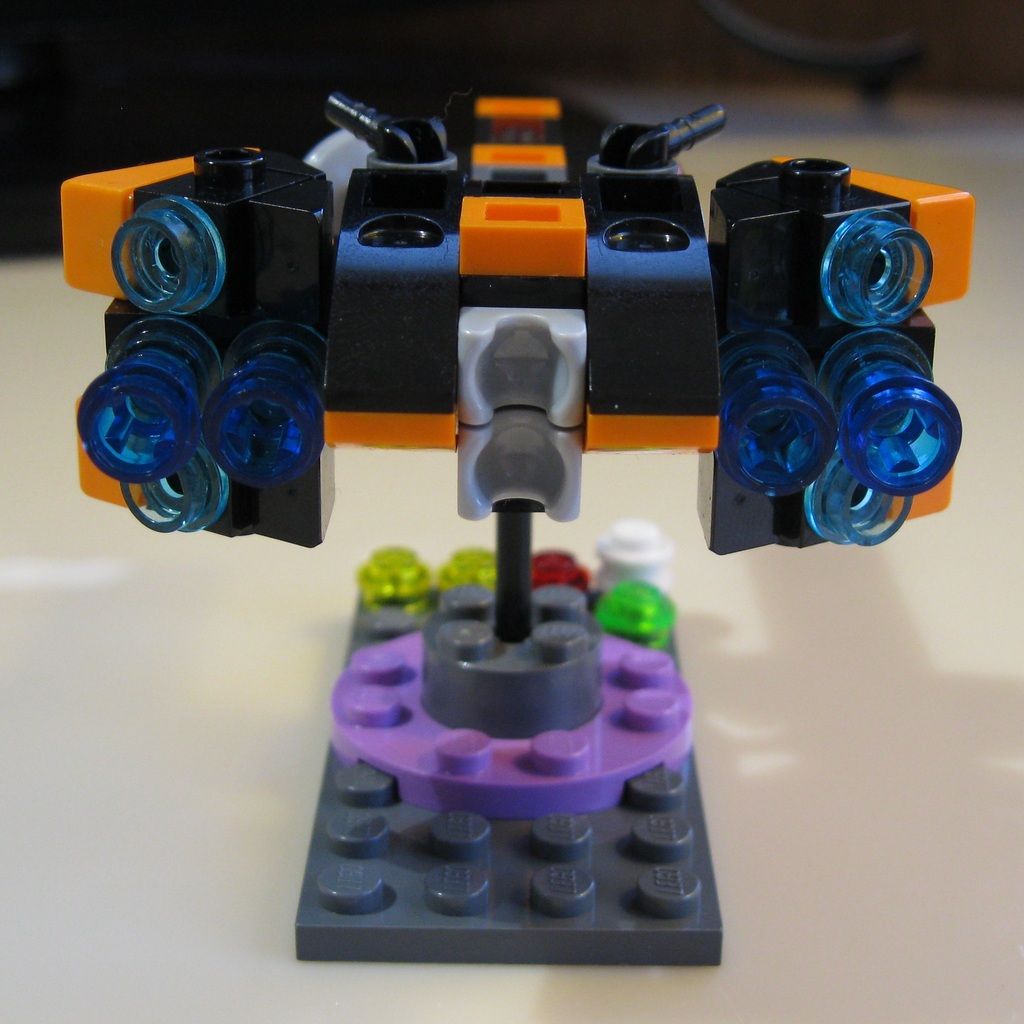 Eat my dust!
Captain Mudiwa Jonnes doesn't mind her current posting, and the thought that it would irk her colleagues was just one of the reasons she elected to retain her command when reassignment was offered. She was on the bleeding edge of explored space, and didn't want to go back. Their work was too important to let a few disgruntled miners derail them...
This ship has already undergone one major tranformation from main-line combat ship to support craft, a paint-swap, and may eventually be cannibalized entirely for an SU Carrier, depending on whether or not one already exists for the fleet it'll be joining. Pretty proud with the "end result" though.
Aces and Frames:
Yellow Ace Conscript/Commisar and Red Ace Hi-Leg;
Blue Ace Scrambler/Suzerain and Green Ace Chub/Osprey;
These designs all borrowed heavily and were adapted from Dark Syntax' companies and aces concepts.
A company of dispersed systems "Trundlettes," which were originally intended for RA but perfect for this application;
These stack up really cutely, but are just about the only thing I can manage on the scale of non-ace frame companies for the time being.
Questions, Comments, and Criticism are welcome, as always. Please look forward to seeing more builds in this thread as April 22nd draws near!