VenTEK is a defense contractor which maintains a research facility on Arcturus. It would be slightly more accurate to say that the outpost on Arcturus is primarily made up of the research facility. The colonial garrison serves not only as the primary defense of the colony, but also as a testbed for ongoing research projects. Crew members tend to prefer the term "guinea pigs" over "testbed."
Well outside of the SU's watchful eye and unburdened by regulation, half-baked research projects are frequently integrated into the fleet. On the one hand, the ships can be considered marvels of automation, with very small crews manning substantially more powerful ships than would ordinarily be possible... when it all works. These automation systems are notoriously unreliable, however, and frequently incompatible. More than a few feel that the crew sizes are intentionally kept small to minimize losses when things inevitably go catastrophically awry.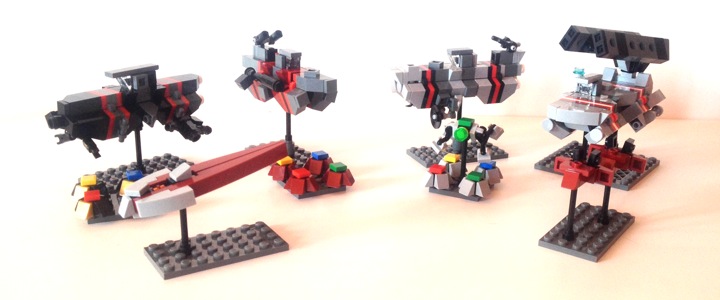 (Click for large version)
I finally got around to making a reasonably cohesive fleet based upon
the Tribute-class frigate
and reusing some of the ideas from
my first attempt at a fleet
. I'm probably going to change up the systems quite a bit but I do love the micro frames, so I went a little overboard with the retrieval claw / frame launcher idea and added a cruiser with a big honkin' gun, for more dakka.
Starting with the back row, that's:
- The Caravaggio and Shadow Squadron (double assault and catapult... and an experimental stealth system that has yet to work... ever)
- The Faust and Red Squadron (point, assault, and catapult on the port side)
- The Horwendill and Ghost Squadron (point, catapult, spot, and a green ace)
- The Grendel (double assault and double defense)
And in the front row, we have two HVAs:
- the Merlin, an experimental frigate, out testing a hypothetically-safe propulsion system; and
- a pair of shuttles, packed full of scientists and instruments, recording the progress of the Merlin.
Individual detail shots coming shortly.