If you're familiar with this Super Nintendo title, you've witnessed what I see as a foundational moment in mecha games, following Metal Storm's lead and surpassing it with newer technology and fresher perspective. For those of you who aren't; treat yourself to a hell of a fun side-scrolling experience. If you can't get your hand on a legit cartridge, I recommend downloading a Super Nintendo Emulator: for Windows, for Mac OS X, or for Android. A ROM of the game compatible with all the above emulators can be found . If this all sounds Greek to you, googling a tutorial of may be in order. Emulators are not intended to replace the legitimate purchasing of copyrighted materials but to allow persons who otherwise can not obtain said material to experience it without financially supporting piracy.
Reviews and Let's-Plays of the game exist and are far better than I could manage if I were to attempt it, so instead I wanted to prompt some discussion about it, not only as a game, but as bricking/concept-building inspiration for MF0. A lot of parallels exist here, the size and scale of the robots and ships are very close to our 7p chub benchmark; the role of robot-suits as the primary tool of combat (and presumably other tasks as well); robots deployed from catapults using disposable propellant containers to board/capture enemy ships and engage other robots in dogfighting; variety in design and operational constraints limited only by imagination; and others.
The player takes on the roll of one Lieutenant Stone, a pilot as capable as the player handling the controller. While each mission (bar one) deploys you in a standard-issue Nitro armored suit, Stone is more than willing to pop the hatch, jump out, navigate on foot, and fight using a side-arm until he locates another un-piloted suit to commandeer. He's a bad-ass, to be sure, but the hook for this particular game is definitely the Mecha.
Let's check out those suits now and try to give them some MF0 stats.
While each frame is created to follow a uniform control scheme of "Ranged Attack, Close Attack, Special Ability, Jump, Defend", it's easier to represent these as Three-System Frames by distilling the systems that represent the core intention of their design. Systems I would drop- if they exist- are notated with an Asterisk.
First, the Nitro:
Energy Cannon
Beam Sabre
Flight Pack
Shield Wall
*
The Nitro is the Standard Issue suit in this game, seemingly tailored for Zero-G operation, as evident by the number and dispersal of thrusters. In environments with gravity, the Flight Pack affords limited airborne capabilities. While not the speediest suit, only one other can out-maneuver the Nitro. The Energy Cannon is a very middle-of-the-road weapon with a rapid fire rate but seemingly low damage; organic targets are destroyed in a single hit, but armored suits require a sustained barrage to dispatch. The Beam Sabre, likewise, is a very balanced hand-to-hand weapon. Like all melee options in this game, they deal damage per frame to an enemy's hitbox, making them much more dangerous than most ranged weapons. The Nitro can slash in wide arcs or stab for that little bit of extra range, all of which at a very deliberate- if ponderous- pace. The last bit of standard equipment on the Nitro is the Shield Wall, a limited type of directional force-field that operates in two modes. One functions much like a physical shield, generating a barrier from the suit's body. The other mode deploys the shield and sustains it at that point for a duration, or until the Nitro deploys a new one. Interestingly, this shield seems to be tuned to the frequency of it's owner's weaponry, allowing the Nitro to fire though it unimpeded.
Next, my personal favorite, the Havoc: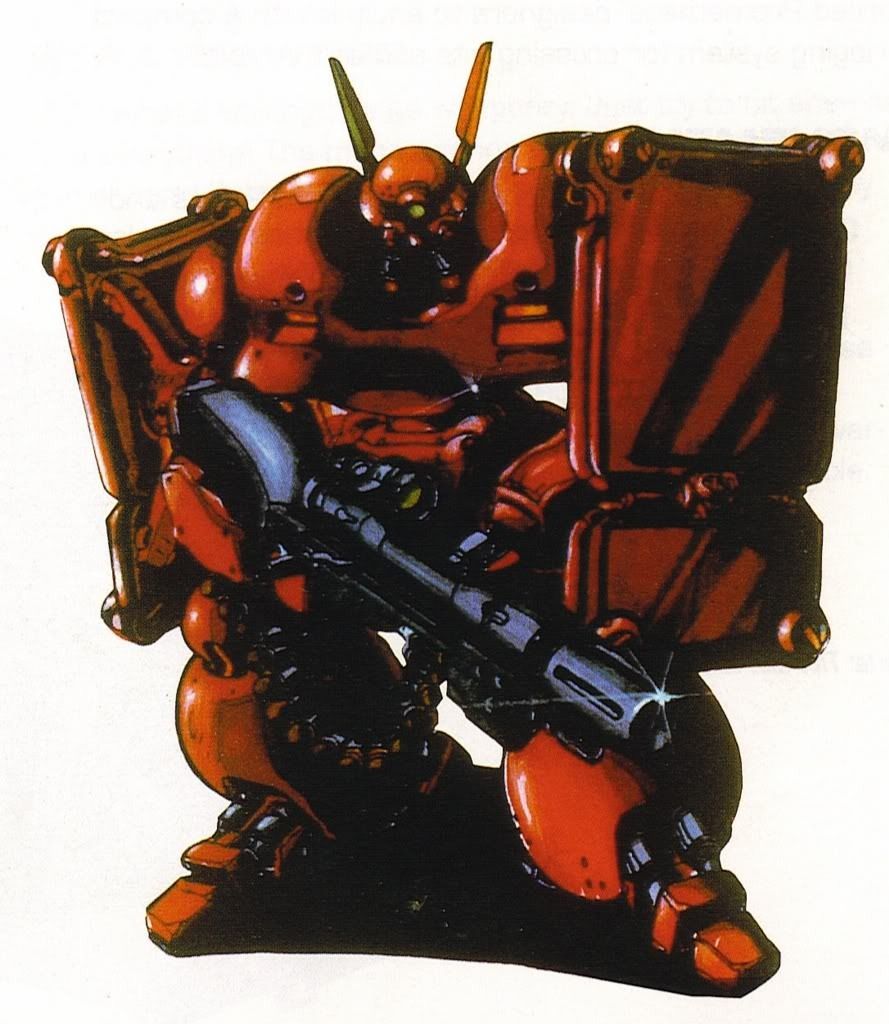 Machine Rifle
Zip Roller
Shield
Chain Attack
*
The Havoc is the first Adversarial suit that seems to be a well-tailored match for the Nitro. Unlike the "mook-suits" that you must slog through as you play, besting a Havoc requires concerted effort and tactic. It is also the first alternative suit available for Lt. Stone to pilot. The Havoc is
fast
, the second-fastest in the game, in fact. Using those Zip-Rollers, the suit can glide along the ground, up or down inclines, and retains its inertia when it jumps. Nearly half of the robots in this game are incapable of jumping, so while it's worth mentioning that the Havoc is not the most capable jumper among them, let it be known that things could be much worse. The Machine Rifle is another base-line gun; a belt-fed rifle with identical statistics to the Nitro's Energy Cannon. The Havoc's melee weapon is called the "Chain Attack" but studies of the animation suggest that the chain is not what does to you now the enormous hurt, but rather the axe-like blade attached to its end. This is a purely horizontal swing, and a slow one at that. In a side-scrolling game like this, it means you've got narrow avenues of attack, which you can fortunately angle upward and downward. It's got a bit more range than the Beam Sabre's slash, but a number of this attack's frames actually strike
behind
the Havoc. Handy? Depends. Lastly, we have the Havoc's sole defensive option, aside from being fast as hell: The Shield. While not impressively named, this is basically a head-to-toe Riot Shield that deflects all but the most extremely damaging attacks. I feel it reflects this suit's role as a defensive fighter quite well, with its only drawback being your inability to attack while raised.
Look out! It's the Prometheus!
Mega Cannons
/
Flame Cannon
Aerial Mines
*
Bridge Layer
*
If you don't feel the particular need to move very fast or jump... ever, the Prometheus has a very deep bag of tricks to keep the enemy guessing. Nowhere is safe from a Prometheus pilot's ire. The twin "Mega Cannons" fire air-bursting high-explosive rounds: just hold the attack button to fire and release to detonate the shells. Fragments are released in all directions, allowing crafty pilots to hit targets behind cover. If your opponent is unwise enough to get in close, hoping to outmatch your guns in melee, they're in for a surprise as the Prometheus' Flame Cannon is pound for pound its most damaging weapon. It fires a constant gout of fire with no delay, quickly reducing targets to cinders. Holding down your defensive button releases a steady stream of Aerial Mines that float lazily "upward" and damage anything they touch. Because the Prometheus is restricted to moving along the ground at all times, it requires a method to bridge gaps and chasms; the Bridge Layer can drop an infinite number of destroyable floor tiles at exactly foot level, meaning that lifts, inclines, or an anti-gravity pack are required for upward mobility.
Moving along now to the Ballistic:
Plasma Cannons
Power Spin
Shield
*
Machine Rifles
*
The Ballistic is a transforming mech that operates in two distinct modes: A mobility-centric "Ball" mode, and a hard-hitting "Turret" mode. In Ball mode, the Ballistic resembles a sphere and maneuvers by rolling. This can be a bit of a burden if you are operating in an area with an over-abundance of inclines, as you will naturally roll down slopes. While its designated "jump" input is a weak showing, the Ballistic can channel its inner Sonic the Hedgehog to charge a directional spinning maneuver that is- depending on application and time spent charging- the fastest movement in the game, the highest vault in the game, and the most damaging Melee attack in the game per frame. Primarily, it's used for jumping and sprinting. The Ballistic can neither shoot nor defend in this mode and instead must transform into Turret mode to do either, which is accomplished automatically by attempting to shoot or block. Changing back and forth takes a few frames, so being aware and well-prepared pays off in this suit. Turret mode offers two ranged options, the first being a pair of Plasma Cannons, which fire powerful bolts at a somewhat slow pace and can be charged to unleash white-hot devastation upon whatever lies in your path, regardless of range. It's backup weapons, the comparably-anemic Machine Rifles doesn't see much use, but both sets of weapons can be fired in rapid succession by skilled users to maximize damage per second. Lastly, the Ballistic can raise its front panels to shield itself from most attacks.
Joining the line-up next is the Spider:
Special Mobility: Adheres to Surfaces
Cloak Shield
Web
Energy Shot
*
Drone Strike
*
The Spider is an oddity in several ways: it is a two-part suit consisting of a main body and a floating drone "head"; it adheres to whatever surface it is walking on, allowing it to cling to walls and ceilings; and its controls are relative to the mech itself rather than the user's point of view. All of this makes controlling the Spider a challenge, if not a chore. Having the fastest walking speed of any mech in the game doesn't help matters much, though I'd suppose adding capabilities to its design keeps things from solely stacking up against it. The Spider's jump is perhaps the weakest in the game, but allows the suit to maneuver between surfaces quite handily with adequate practice. Rather than deflect or withstand the brunt of an attack, the Spider uses its Cloak Shield to turn invisible, evading damage, but must stand still to do so. The Spider has the only thing I could justify as a spot system among all the suits in the game; an energy Web that binds enemy suits to the spot for a duration, but can be destroyed with a well-placed attack. Both its ranged and melee attacks originate from its floating Drone head, but neither are of noteworthy quality, practically mirror images of the Nitro's Energy Cannon and Havoc's Chain Attack respectively.
Finally, the Drache:
Special Mobility: Flight
Energy Weapon:
Power Dive:
*
The Drache is more UFO than mecha, but we're a tolerant bunch here. Clearly its strength lies in its unparalleled maneuverability, even if it's not the fastest at getting around. The Drache's unnamed energy weapon dominates all face-buttons on the classic Super Nintendo's controller. Though odd, practice gives a skilled player the ability to shoot and move completely independently, a necessary skill to keep the otherwise-fragile Drache alive. Again, the weapon is of similar fire rate and damage to the Nitro's Energy Cannon, special only in its eight independent directions of fire. The unsuspecting adversary may find out that the Drache does have one interesting trick up its sleeve, the Power Dive. Potentially adapting an atmospheric re-entry protocol, the pilot folds the durable maneuvering flaps down into a diamond point and drops on the enemy. By quirk of the game's coding, this attack deals damage even while resting on the ground and has no delay, making it the single most damaging melee attack in the game. While iconic of the suit- and possibly the entire game- this result was unintentional, so I'm forced to relegate this to a non-essential system.
I've tried to LDD most of these designs with little luck and only attempted bricking the Havoc, without much success, but would love to see any of your attempts here. Would you stat these mechs any differently? How about the un-pilot-able "Mook-suits"? Know any good fan-art? Just want to gush about the animation quality and sound-track? Anything goes, here, so long as the focus is this hidden gem of a game: Metal warriors.