.
Based upon a half-remembered on Mantisking's blog, I picked up a set the other day to try my first SSC. While none of the individual results are particularly good in their own rights, the process was a ton of fun and I still can't believe I got 4 playable frames and 2-3 ships (calling the lime and green one is a ship is
really
a stretch) out of a single $15 set. Not only that, but I got OCD towards the end and went on a rampage to make sure I used every single piece.
I'm thinking about changing some things a bit and so I might post details once I've made some updates. However, here's a group shot (with a random chub in the middle for scale).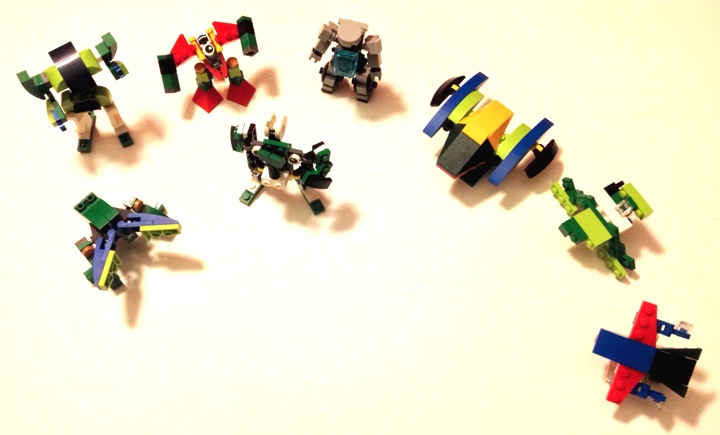 Left to right, top to bottom, that would be:
Statler, Waldorf, and a random chub for scale;
Sweetums, Gonzo, and Sam the Eagle Class Cruiser;
Camilla the Fowl Class Transport, and Floyd the Bass Class Corvette.
The set itself is pretty great. 215 or so pieces and a good selection without
too
many plates. I've got a pretty drab color palette overall and was looking for some accent colors... which I'd say it has covered pretty successfully. The only downside is that it doesn't add enough any any one color to use consistently, perhaps. That might make it less attractive than a more color-coordinated option (red creatures, forest animals, furry creatures, etc.), as a starter kit, but quite good for filling in random gaps in an otherwise bley collection like mine. It is also lacking in good bits for systems... which most of the things I've built lack.